On a visit to Newport, the most northerly deanery in the Diocese of Oxford, the Bishop of Oxford led collective worship for four- to seven-year-olds at Sherington School, before meeting with a Ukrainian family and their hosts in Emberton.
Starting his day with a Eucharist service in Haversham, Bishop Steven preached with the Revd Coralie Mansfield presiding. Bishop Steven encouraged the congregation, made up of deanery clergy, to make space for spiritual renewal - a necessity not because of any failings, but because of the demands of our times. The bishop praised clergy for their work over the pandemic, calling them "magnificent," and invited them to share with him over lunch their experiences of ministry in that time and their reading on where they and their churches are now. The honest conversations with clergy form part of the bishop's year of 'listening and learning'.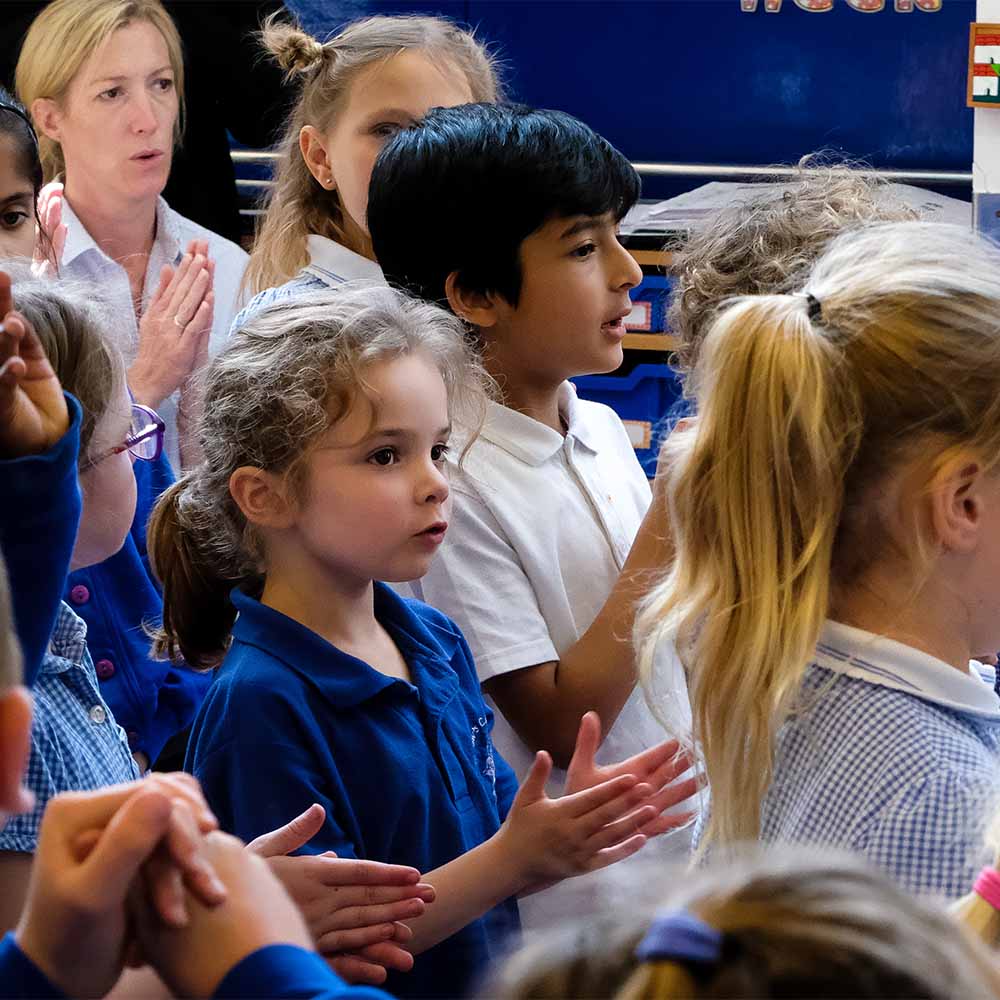 At Sherington CE School, Bishop Steven met with pupils aged four to seven for collective worship. Part of a federation of village schools, Sherington currently also houses pupils and staff from St Andrew's, Milton Keynes, following a fire in their building. Gathering the children together, Bishop Steven shared the story of how he first met the Queen when he became Bishop of Oxford in 2016. Some of the children announced that they had also seen the Queen - on Peppa Pig.
The children asked the bishop lots of questions about whether he was nervous meeting the Queen, what they had spoken about, and where he stayed when he visited the Queen in Sandringham on another occasion. Bishop Steven drew the session to a close with a prayer.
Leaving the school, Bishop Steven travelled to the village of Emberton, where he met Maddi and her husband, along with some of the seven Ukrainians currently living with them. The family, from western Ukraine, shared their moving story, with their teenaged daughter acting as translator between her mother, aunt and grandmother, and the bishop and other guests. After travelling to the UK on a family visa - a journey filled with anxiety when one visa didn't arrive with the rest - the family were originally going to stay with two separate hosts, but Maddi decided to make room for them all at her house; "We're a bit on top of each other but I knew they needed to be together."
The two older children have managed to get school placements locally, while the family await confirmation of nursery places for their two youngest. Google Translate and Duolingo are lifelines in the household, and Maddi tries to translate the readings each week at church so everyone feels included. Unexpectedly, applying for bus passes has been a tricky process, and the lack of transport options makes finding work and independence hard for the adults of the family. Maddi and her husband described the experience as 'eye-opening' to the ways in which some UK systems over-complicate processes.
The family expressed their gratitude to their hosts, and to everyone who is offering housing to help Ukrainians with no family seek refuge here. Maddi stressed that the experience of hosting was life-changing and "an absolute privilege."
Later that day, Bishop Steven met with lay leaders for a pub dinner, before an evening at St Peter and St Paul, Newport Pagnell, where laity from across the deanery were invited to hear a sermon from the bishop and ask him questions to round off the day.
---
It's not too late to get involved with our Ukrainian Resettlement Scheme. With around 100 matches now made and more and more families arriving in the diocese every week, the scheme is in full swing. Every home offered makes it more likely that we can find suitable accommodation for every Ukrainian who needs it. Register your interest now.