About the Development Fund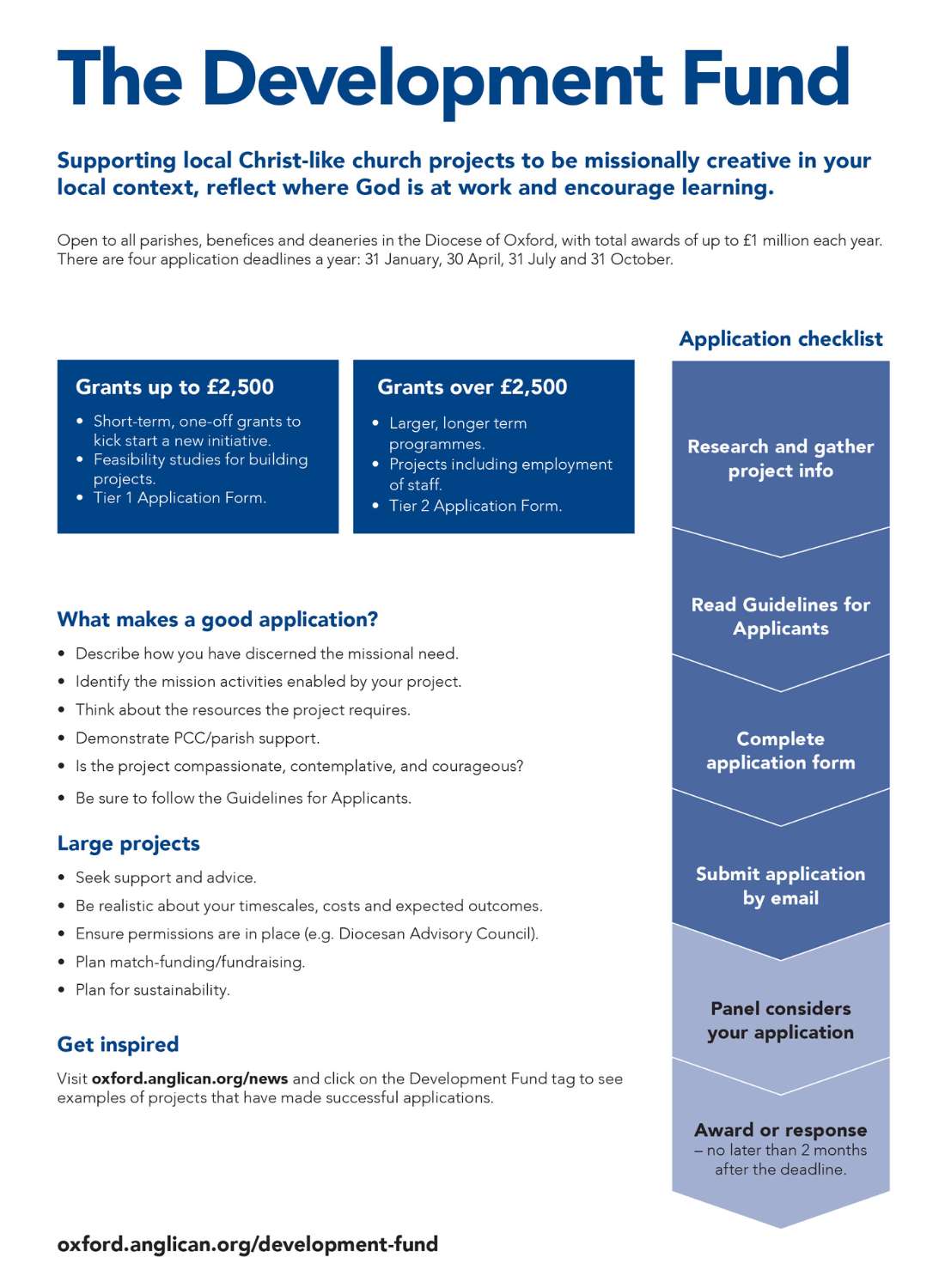 The amount of money available to parishes and benefices in the Diocese of Oxford is c. £1m each year over the next three years.
Grant applications to the Development Fund must support local projects that are missionally creative, reflect where God is at work in the community, and encourage wider learning across the diocese.
The Fund is open to all but aims to be particularly helpful to those parishes who, after paying Parish Share and other essential costs, have very limited financial resources to invest in missional activity. We know even modest grants can make a significant difference in such parishes.
If you are looking for a summary of the application process, where to get help and advice on your project, and tips on how to make a good application, try this printable leaflet.
---
1. Why you should apply
We are called to put into deep water and let down the nets: to tell the Christian story with love and hope and confidence.
Parishes, benefices and deaneries can bid for grants from the Development Fund to enable missional creativity and support local Christ-like Church projects.
As with any grant application process, there is a lot of information at first glance. We suggest reading the guidance on eligibility, priorities, and 'how to apply' in order, starting with the information below.
---
2. Our grants: eligibility and application deadlines
Two types of grant are available to support missional activity by any parish, benefice, deanery or chaplaincy in the Diocese of Oxford. Find out more:
Tier 1 - grants up to £2,500
Short term, one-off grants are available to parishes and benefices to support an event or to kick-start a new initiative. Grant applications will range from small modest sums up to £2,500.
Tier 2 - grants over £2,500/employing staff
Grants are available for larger initiatives and long-term programmes that require substantial sums. An organisation may only make one Tier 2 application per year and, if successful, may not reapply to the Fund for at least 2 years after the last (successful) submission deadline date.
Any application which involves employment of staff should be made on a Tier 2 application form. Grant applications in this tier will range from £2,500 to many thousands, though Development Fund grants will not normally exceed £80k in a single grant, or £200k over a maximum 5 years.

Who can apply
Any parish, benefice, deanery or chaplaincy in the Diocese of Oxford may apply. Applications linked to schools should be made through the relevant parish (or deanery). In most cases we expect applications to be signed by the parish incumbent (or for a deanery, the Area Dean or Lay Chair) and any grants paid to a PCC (or Deanery) account.
Application deadlines
There are four submission deadlines per year for Tier 1 and Tier 2 Grant applications. We will respond to applicants within two months of the submission deadline.
Deadlines for 2023
| Application deadline (midnight) | Decision to applicant by |
| --- | --- |
| 31 October 2023 | 22 December 2023 |
Deadlines for 2024
| Application deadline (midnight) | Decision to applicant by |
| --- | --- |
| 31 January 2024 | 31 March 2024 |
| 30 April 2024 | 30 June 2024 |
| 31 July 2024 | 30 September 2024 |
| 31 October 2024 | 23 December 2024 |
Fund scope and restrictions
Scope
The Fund is open to supporting a wide range of missional activity. This includes (but is not restricted to) supporting initiatives which align with our
areas of focus
.
Please note that applications for grants to support Fresh Expressions of church and New Congregations and work to develop school chaplaincy or parish-school relationships should be made through the Development Fund to avoid the need for separate funding mechanisms.
Limitations and restrictions
There are some things which the Development Fund is not intended to support, such as routine repairs to buildings, payment of regular running costs (utility bills, insurance, Parish Share etc.) and activity which is already deemed to be funded by current financial arrangements. Since grant requests may exceed the available funds, the diocese may look less favourably on applications for work where
other grant sources
are available.
Essential infrastructure for mission
Over three years from 2021, Bishop's Council has made available £200k per annum to assist with the provision of essential infrastructure required for churches to enable their mission. Those parishes currently without these facilities in a usable state can apply for a grant that could make a real difference in supporting their mission and vision for their community.
You do not need to apply separately for this funding – if your project meets the criteria, the Review Panel will automatically take this into consideration whilst reviewing your application.
Further information about the types of infrastructure covered and how to apply can be found in Guidelines for Applicants, available to download on our How to apply page.
You can find guidance to help you develop your Statement of Need on the Church Buildings page.
---
3. Priorities for the Development Fund
The aim of the Development Fund is to encourage church communities in five areas:
to become a more Christ-like church
to encourage discernment
to be missionally creative
to learn together
to support initiatives that are sustainable
Find out more about each of these priorities.
---
4. Guidance notes and application forms
Our how to apply page contains everything you need to make a grant application.
---
5. Projects supported by the Development Fund
We have already supported over 150 parishes and deaneries with their mission development: be inspired by their stories of change and find out how the fund might support your vision and journey to become a more Christ-like church:
---
6. The Development Fund Panel
John Sykes, Diocesan Lay Chair, chairs the panel of clergy and laity who review applications.
The Panel has a difficult task; it was already clear from the first round that applications are likely to exceed the money available. That's just one sign of the creativity and commitment to becoming a more Christ-like Church that is very apparent across our diocese.
Panel members
| | | |
| --- | --- | --- |
| Name | Role | Lay/clergy |
| John Sykes (Chair) | Diocesan Lay Chair | Lay |
| Revd Canon Chris Bull | Associate Archdeacon of Buckingham | Clergy |
| Revd Canon Rachel Carnegie | Associate Clergy member, Dorchester Benefice | Clergy |
| Alison Eves | Churchwarden, Burghfield | Lay |
| Mark Humphriss | Diocesan Secretary | Lay |
| Revd Sally Lodge | Team Rector, Benefice of New Windsor | Clergy |
| Revd Paul Oxley | St Mark's, Milton Keynes | Clergy |
| Tina Shaw | Lay Chair, Bicester and Islip Deanery | Lay |
| vacancy | | |
| | | |
| Panel support | | |
| Janet Rogers | Head of Grants, Projects and Governance; Secretary and Adviser to the Panel | Lay |
| Fiona McGrady | Development Fund Administrator | Lay |