From Saturday 1 to Monday 31 October, churches across the diocese are marking Black History Month with events, services, exhibitions and more.
Resolved to Serve
A Diocese of Oxford-commissioned portrait and video exhibition celebrating black culture and its influence in the Church today. Featuring black African and Caribbean clergy in the Diocese of Oxford telling their inspiring stories of faith and resilience.
Touring the diocese during October and November:
Watch the interviews now - new ones added each week!
---
Liturgical Resources for Black History Month
A series of resources from the Church of England are designed for use during Black History Month including Services of the Word, a Eucharistic Service, and Prayers of Lament and Commission.
---
Upcoming events
How Heroes are Made: Race and the Battle for Transformation, Leadership and Change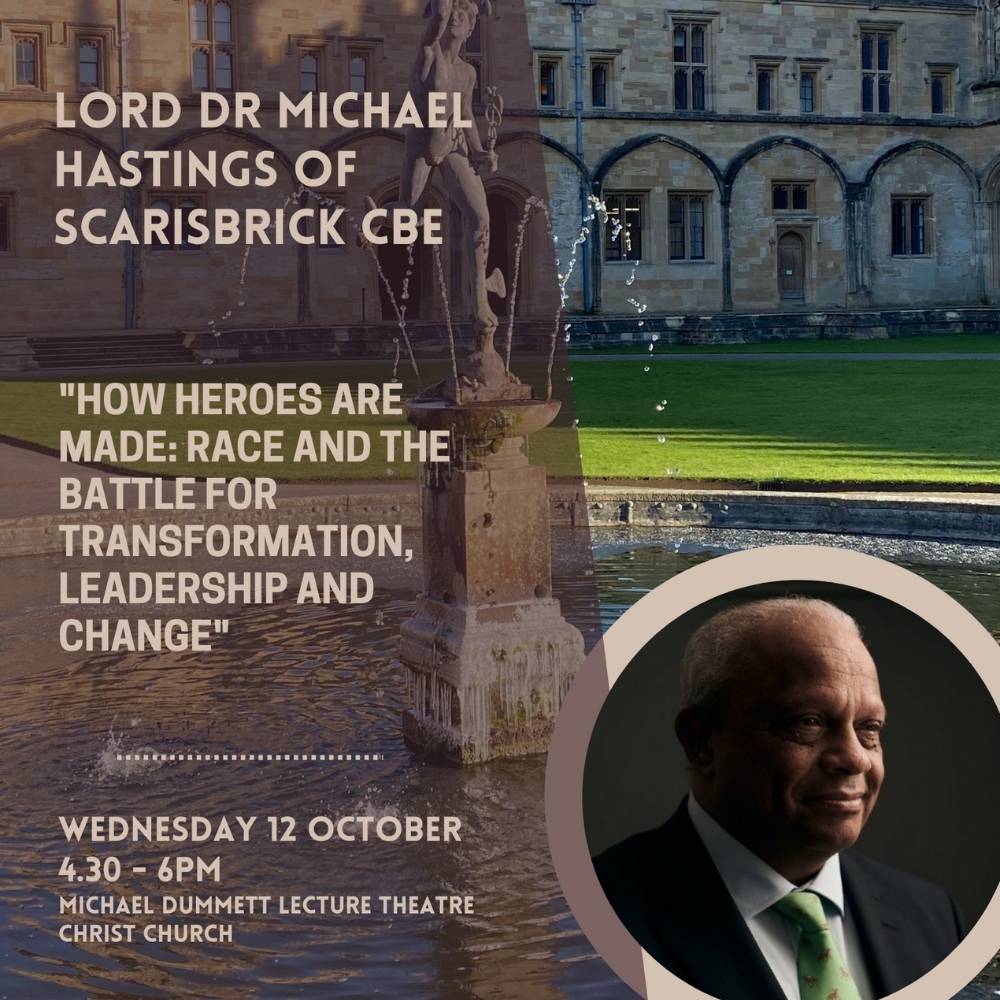 Sir Michael Dummett Lecture Theatre, Christ Church, Wednesday 12th October, 4.30 - 6pm.
A Christ Church Cathedral Faith and Politics Lecture for Black History Month with speaker Lord Hastings of Scarisbrick CBE. Find out more
Lord Dr Michael Hastings is an independent Peer in the House of Lords and his career has led him to work across public, private and non-profit sectors. Formerly Head of Public Affairs at the BBC, he also served on the Commission for Racial Equality and as the Global Head of Citizenship for KPMG. He is currently Chair of SOAS, University of London. He is particularly interested in promoting and equipping young black leaders in the UK.
African History Season: Belonging - A place for me?
Christ Church, Abingdon - The Barn, Thursday 13 October - Saturday 15 October 2022
A three-day event in Abingdon exploring the richness and depth of African History.
Join Christ Church, Abingdon as they explore the richness and depth of African History Season. Celebrate the beauty of African / Caribbean culture through artwork, workshops, performances, and more activities that tell the stories of a rich and diverse history.  With opportunity to see and reflect upon a collection of artworks, discover and celebrate the achievements and contributions of courageous African heritage people, and attend interactive workshops. There will be a performance of "SOLD"- a play that tells the story of Mary Prince, a woman enslaved in the British Colony of Bermuda, her fight for liberation, and her advocacy for freedom. There will also be opportunities to taste African Caribbean food.
There are daytime workshops for schools and many opportunities for interaction and learning. The project aims to bring awareness of the history, traditions, and achievements of a culture that has overcome struggle through strength, community, and justice. 
Free entry and a charge for the evening performance, book tickets.
Creative Expressions of Faith
The Church of the Servant King, Milton Keynes, Saturday 29 October, 10:30 am - 3pm
This special day brings together the creative expressions of faith to celebrate black heritage through art, dance, music, poetry and more.
The event is for anyone who would like to explore the richness and depth of black heritage and celebrate the influence of black history in the UK.
The Revd Polly Falconer speaking on BBC Three Counties Radio ahead of the event, listen to the full interview: