What is a chaplain?
Chaplains are people appointed by the Church to work in all kinds of places outside the normal life of the congregation. There are chaplains in hospitals, workplaces, prisons, the armed forces, shopping centres, rural areas, colleges, universities and schools to name but a few. In all these places chaplains try to show God's love through offering care and support, and by representing Christian values and beliefs.
Chaplains share the great privilege of discovering what God is doing out there - beyond the Church. In our diverse society, chaplaincy has to show the greatest sensitivity and respect. Christian chaplains often work in ecumenical teams or alongside colleagues from other faiths.
Chaplains' conference
As the senior member of diocesan staff responsible for chaplains across all sectors within the diocese, the Archdeacon of Oxford hosts a chaplains' conference every 18 months or so.
The last conference, held in September 2021 in Christ Church Oxford, welcomed just under 50 chaplains from various different sectors, and the key speaker was the Revd Helen Dearnley, Deputy Chaplain General of Prisons. Bishops Steven and Alan also spoke at the conference, indicating their support to this vital role in ministry across the diocese. The theme was 'sustaining integrity' and those present had the opportunity for questions and discussion with a panel of experienced chaplains in the afternoon. The next conference is likely to be in the spring of 2023.

This photo was taken of the school chaplains who attended this conference and who also met with Charlie Kerr, schools chaplaincy advisor, on the day. More information on school chaplaincy can be found on the ODBE website.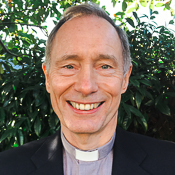 The Venerable Jonathan Chaffey
Archdeacon of Oxford
01865 208 263