Events have been taking place across Berkshire, Buckinghamshire, Oxfordshire and Milton Keynes this past week to part Refugee Week 2022.
Attendees of events in Reading, Milton Keynes and Didcot share their experiences below.
---
Reading - Taking action
The Revd Liz Jackson and a group of representatives of Reading's newly arrived communities took to the streets to take action and encourage Berkshire businesses to diversify their workforce.
Reading is famous for its IT businesses - it's one of the reasons many newly arrived people from Hong Kong and other places choose to settle here. They come with qualifications, experience and enthusiasm, and a confidence that they will find work quickly.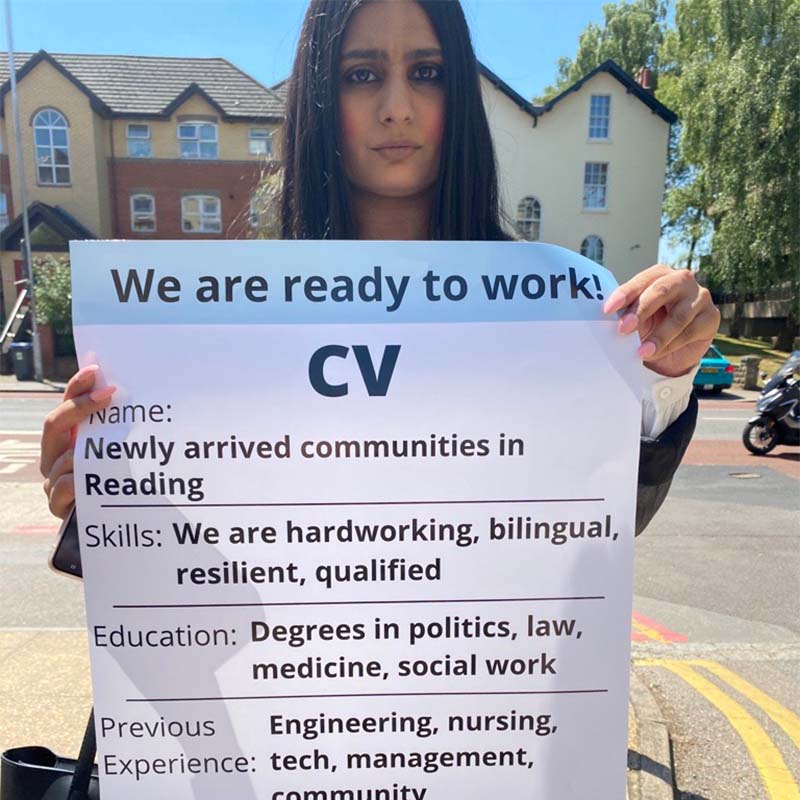 Unfortunately, for many, this isn't the reality. Despite having a great CV, which they send out hundreds of times, they get few interviews, and it can take them more than six months to land their first job. All too often that first job is at a much lower level than they were working previously.
On Wednesday 15 June, newly arrived people from Hong Kong, Ukraine and other countries gathered in Thames Valley Business Park to take action. Supported by members of the Reading Citizens UK alliance, the Reading Refugee Centre and Reading University, the group gathered outside the headquarters of Microsoft, Oracle and Wipro with baskets of food from the different cultures represented. There they delivered a letter to the organisations asking them to meet and talk about the opportunities a diverse work force can bring: new creative perspectives, faster problem solving, higher innovation and a better company reputation.
The Revd Liz Jackson, Associate Archdeacon for Berkshire, says;
"We managed to speak to representatives of all the businesses we visited and left feeling that we had done something to raise the profile of highly skilled newly arrived people within those organisations, and that the door had been opened just a little bit wider for them to get a job."
"Oxford Diocese is working with Citizens UK to bring communities together, to help them organise themselves and to take action on things that matter to them. Change can happen in your community too."
To find out more, contact Liz and explore the Addressing Poverty & Inequality pages.
Listen to Liz talking on local radio during Refugee Week about support for refugees:
---
Milton Keynes - A city of welcome
On Monday 20 June, a crowd gathered at the MK Rose, an open-air art installation that encourages the community to come together to mark key dates, to hear from a range of speakers on World Refugee Day.
In a moving speech, a family who sought safety in the UK almost one year ago, having previously lived in Afghanistan, shared their hopes for their future here. The family moved into permanent accommodation just the week before, having spent ten months living in a hotel room with two young children.
"Moving here wasn't only for me, it was for my kids as well… Afghanistan has been at war for years, I didn't want that for my children. I want them to grow up and get educated here."
"I want everyone of our family to positively contribute to our society. My main aim and goal is to raise my children in such a way that they only see the human being - they help others because they are human beings."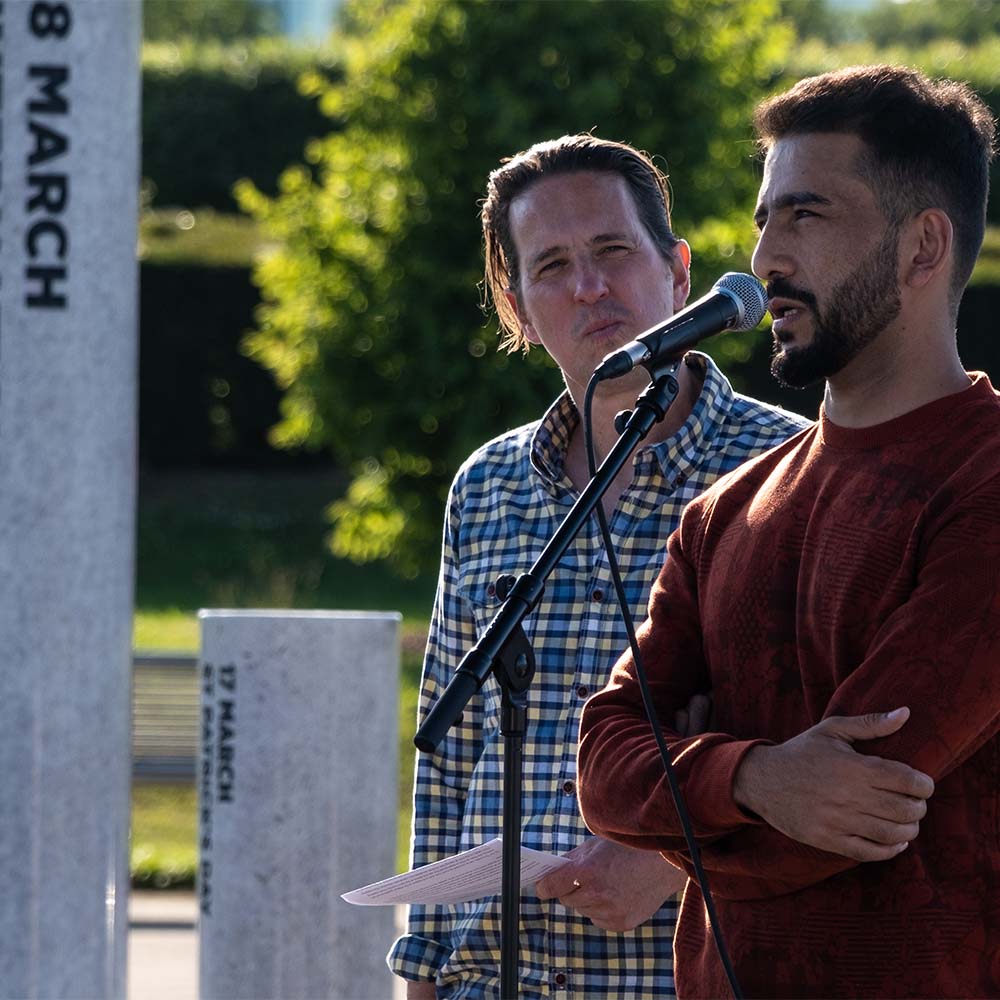 With the help of Welcome MK and the local council, the family have been able to start the next chapter of their lives and settle into their new home - but around 12,000 people from Afghanistan are still stuck in hotel rooms across the country.
The Revd Tim Norwood, Area Dean for Milton Keynes City and organiser of the event, says,
"Milton Keynes is a new city where most people have come from somewhere else. 'Welcome' is a really important value for us as a community. The World Refugee Day pillar was erected in 2020 with the conflict in Syria at the forefront."
"In the past year we have been welcoming people from Hong Kong, Afghanistan and Ukraine. Global warming will generate new crises, and we need to be ready. We need to keep 'Welcome' at the heart of our lives as both Citizens and disciples of Christ."
Welcome MK is a local charity that aim to provide a warm welcome and ongoing support to refugees and migrants moving to the area. At the event, they were gifted sewing machines and tool boxes by Tools for Self Reliance, who repair and distribute old tools to communities globally who often don't have the means to provide for themselves. These tool boxes form part of a pack provided by Welcome MK to refugees settling in.
If you're based in Milton Keynes and want to help, contact the Revd Tim Norwood.
---
Didcot - Launching new support
21 June saw both the start of Refugee Week 2022 and the launch of the Didcot Refugee Support Group, a group of residents looking to practically support refugees resettling in the Didcot area. The event was attended by local schools, charities, faith groups, council leaders and others doing amazing work support refugees in different ways.
Co-chair Rhiannon Lovell, from St Peter's Church in Didcot, said;
"It's clear that making Didcot a place of welcome is something that matters to people from across the town, and as someone who works with vulnerable migrants in my day job, knowing that others care strongly about this group of people is really encouraging."
The Lord Lieutenant of Oxfordshire, Elizabeth Paris, congratulated Didcot Refugee Support Group on an "brilliantly organized" meeting, and the Mayor of Didcot, Cllr Pam Siggers, said;
"War is a traumatic experience but that trauma continues even when people find safety in another country. Our country may not be at war but for those who have left conflict behind - they face new challenges, in language, in culture, in settling into a new and very different way of life."
The group also heard from Hannah Ling, the diocesan Social Justice Adviser, who shared an update on the diocese's Homes for Ukraine response and encouraged people to look at the wider picture of refugees.
If you'd like to join Didcot Refugee Support Group, email didcotrsg@gmail.com.