Yellow Braces is back for 2023! We'd love to see you there - find out more and book here.
Young people from as far apart as Milton Keynes and Sandhurst and everywhere in between gathered for fun and friendship at the diocesan youth weekend.
Yellow Braces, an annual weekend of fun, malarkey, activities, food and engaging with faith and life, took place at Adventure Plus, an 80-acre site in Clanfield whose ethos focuses on getting people "out there, in Him". The first Yellow Braces event since 2019, it was a joy to see both familiar faces and new building Christian community together.
Yellow Braces has an almost monastic feel, with a values-led programme working through the three Cs of the diocesan common vision over the course of the weekend. The weekend is built around the invitation into living and building community as we play, pray and eat together. At the heart of the experience is the dorm groups - smaller communities within the wider camp - in which the young people looked at "Gniyullb" (bullying backwards) and reflected on how they can live out community values in their everyday life and faith, in contemplation, compassion and courage. The dorm times were ones of listening, sharing and exploring each day as relationships deepened.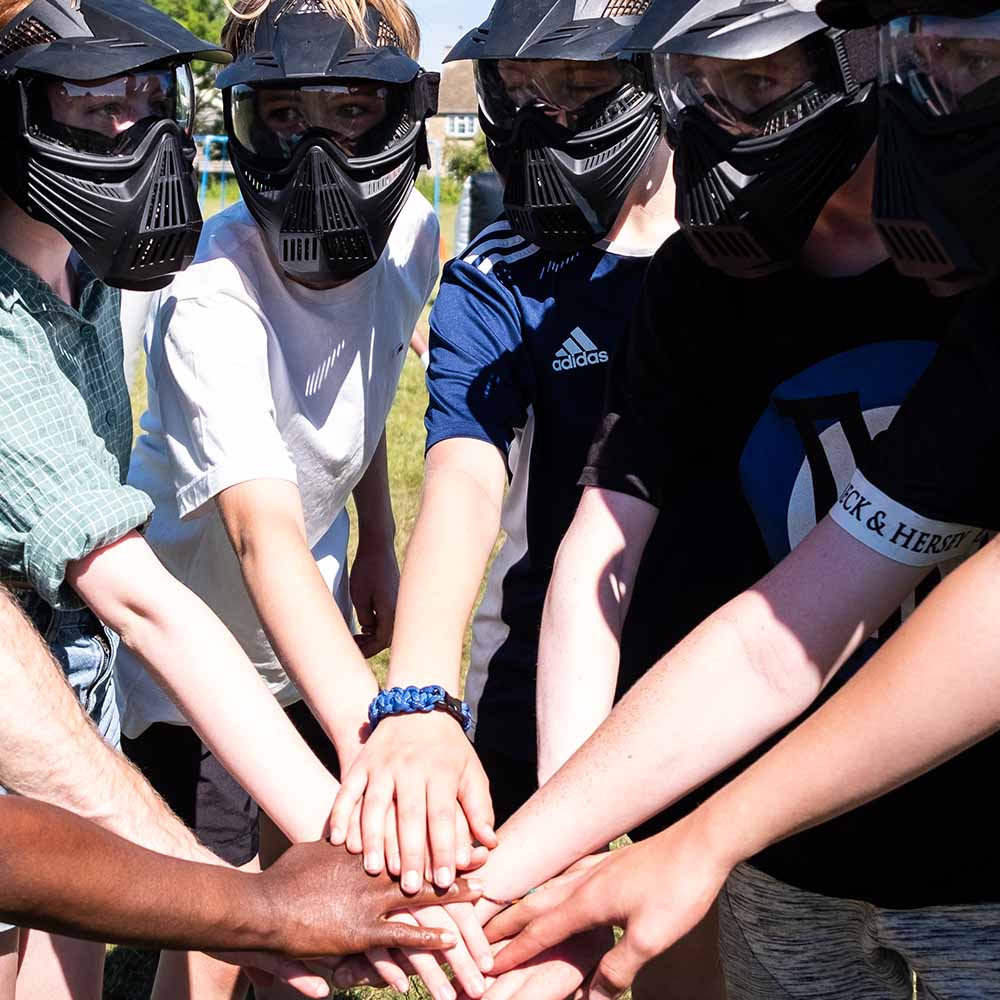 Mealtimes play a big part in the togetherness of the weekend. The wonderful cook team excelled themselves in producing a full Sunday roast (even followed by crumble!) in the kitchen cabin, whilst conversations over meals buzzed.
A packed activity programme involved games of nine square, waterballoon volleyball and archery tag, facilitated by Adventure Plus. Taking it in turns to play during the scorching weather, teams battled it out on the archery tag course in a dodgeball-style competition. The group also embarked on a night hike through the surrounding countryside and spent an evening sat round the campfire together.
For many young people, Yellow Braces marked their first weekend away from families, with the normal pattern of school and group residentials disrupted through the pandemic. The weekend's community theme resonated with many, and some young people made bunting in their free time to display the core values across the communal areas.
See the full photo album on our Facebook page.
Yellow Braces is run by the diocesan Discipleship Enablers, alongside a team of volunteers from across Buckinghamshire, Berkshire and Oxfordshire. Subscribe to Generations, a monthly newsletter for anyone, lay or ordained, working with children, youth and families, to stay up to date with next year's plans and get regular advice and resources.