Faith leaders gathered for a special service at Christ Church Cathedral on Sunday 8 May. The event marked 800 years since anti-Jewish laws were introduced by the medieval church at the 1222 Synod of Oxford.
The service, attended by members of local Jewish and Christian communities, and arranged by the Diocese of Oxford in association with the Oxford Jewish Congregation, offered a symbolic opportunity to apologise for the shameful historic actions of the Church which saw English Jews ostracised and led to a mass expulsion in 1290.
It also recognised the positive reframing of Jewish-Christian relations since this time and reinforced the Archbishop of Canterbury's call, in the 2019 Church of England report, God's Unfailing Word, that 'only by looking back and recognising our failures as Christians can we begin to move forward with authenticity'.
Speaking in the service, the Rt Revd Dr Michael Ipgrave, Bishop of Lichfield and Chair of the Council of Christians and Jews, reaffirmed a commitment to continue building these longstanding friendships:
"Remembering needs to lead to repenting… remembering with clarity what happened and its impact; repenting with sincerity for our turning away from the path of justice and mercy; and rebuilding in trustful partnership with one another.

"The last sixty decades have indeed begun to see a transformation in the ways in which our communities view one another, but there is still a long way to go... Trust can only be won through building friendship, through learning about one another, through treating one another with respect, through facing difficulties and disagreements openly, honestly and courteously."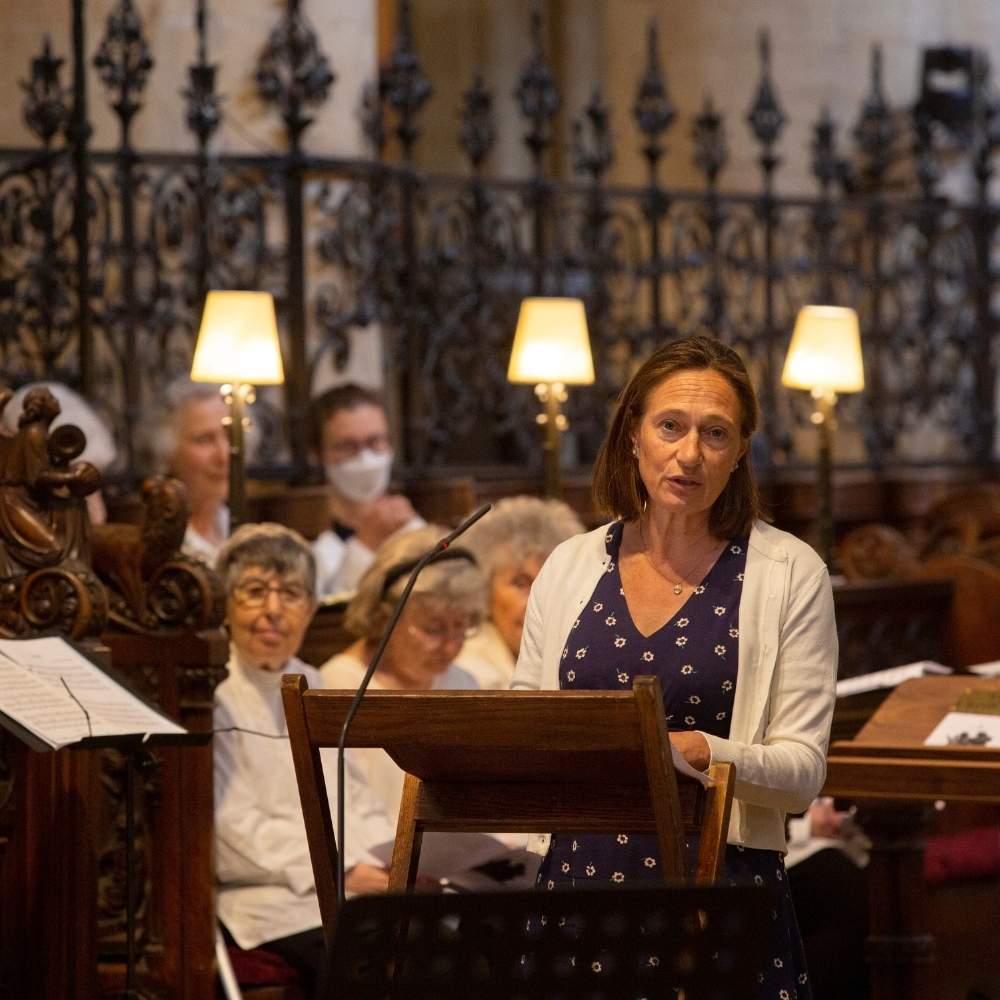 Rebecca Abrams, teacher of creative writing at the University of Oxford and author of Licoricia of Winchester: Power and Prejudice in Medieval England and The Jewish Journey: 4000 years in 22 objects, reflected on the history of and implications of the 1222 Synod of Oxford:
"The Synod of Oxford did not create antisemitism, but it played a decisive role in creating a hostile environment… It formalised Christian antipathy towards Jewish people and the Jewish religion and created a catastrophic blueprint for centuries to come.
"We are here today, all of us, here together, to move beyond silence, to listen to the past, to speak to the present and to ensure a better future."
Speaking at a reception after the service, the Chief Rabbi, Ephraim Mirvis, said:
"1222 was a notorious turning point, let us guarantee that 2022 will be seen as a turning point for the better… Let us ensure that we will strengthen Jewish-Christian understanding, that we will celebrate what we have in common and understand and respect each other for our differences… Let us ensure that we will stand together to fight against all forms of hatred, bigotry and racism…and ensure that together we will fight for freedom of religious expression and identity."

The Auxiliary Bishop Emeritus of Birmingham, the Rt Revd Willian Kenney, led an act of penitence and readings were given by Rabbi Dr Jonathan Romain in Hebrew and Alexander Demby, Medical Student at Christ Church. A joint act of commitment was led by Dr Wendy Filder from the Oxford Jewish Congregation and the Ven Jonathan Chaffey, Archdeacon of Oxford, committing "to work to build a bright future together."
The service closed with a final blessing given by the Bishop of Oxford, the Rt Revd Dr Steven Croft. Music was sung by Oxfordshir Community Choir and Volin and Cello recitals were performed by local Jewish musicians.
The service was attended by a number of civic dignitaries including the Lord Mayor of Oxford and Lord-Lieutenant of Oxfordshire. During a reception after the service, guests heard from the Chief Rabbi, Ephraim Mirvis, (pictured above) Munwar Hussain, Founder of the Oxford Foundation, (pictured above) the Archdeacon of Oxford, Michael Wegier, Chief Executive of the Board of Deputies of British Jews, and the Revd Dr Nathan Eddy, Director of The Council of Christians and Jews.
---
Reflections by Rebecca Abrams and the Bishop of Lichfield:
For a full photo gallery visit the Diocese of Oxford Facebook.
The service was live-streamed and is available to watch via the Christ Church Cathedral Youtube.
---
About the 1222 Synod of Oxford
Held at Osney Abbey, the Synod instigated a particularly disturbing time in Christian-Jewish relations in England, with repercussions across Europe. The synod passed laws forbidding social interactions between Jews and Christians, forcing Jews to wear identifying badges, imposing church tithes on them and banning them from certain professions. They were also forbidden from building new synagogues. These prejudicial laws were followed by further anti-Jewish statutes every decade in the thirteenth century, culminating in the mass expulsion of the Jewish community in 1290.
Professor Miri Rubin, Professor of Medieval and Early Modern History at Queen Mary University London, explains the history and context of the Synod:
---
Media coverage