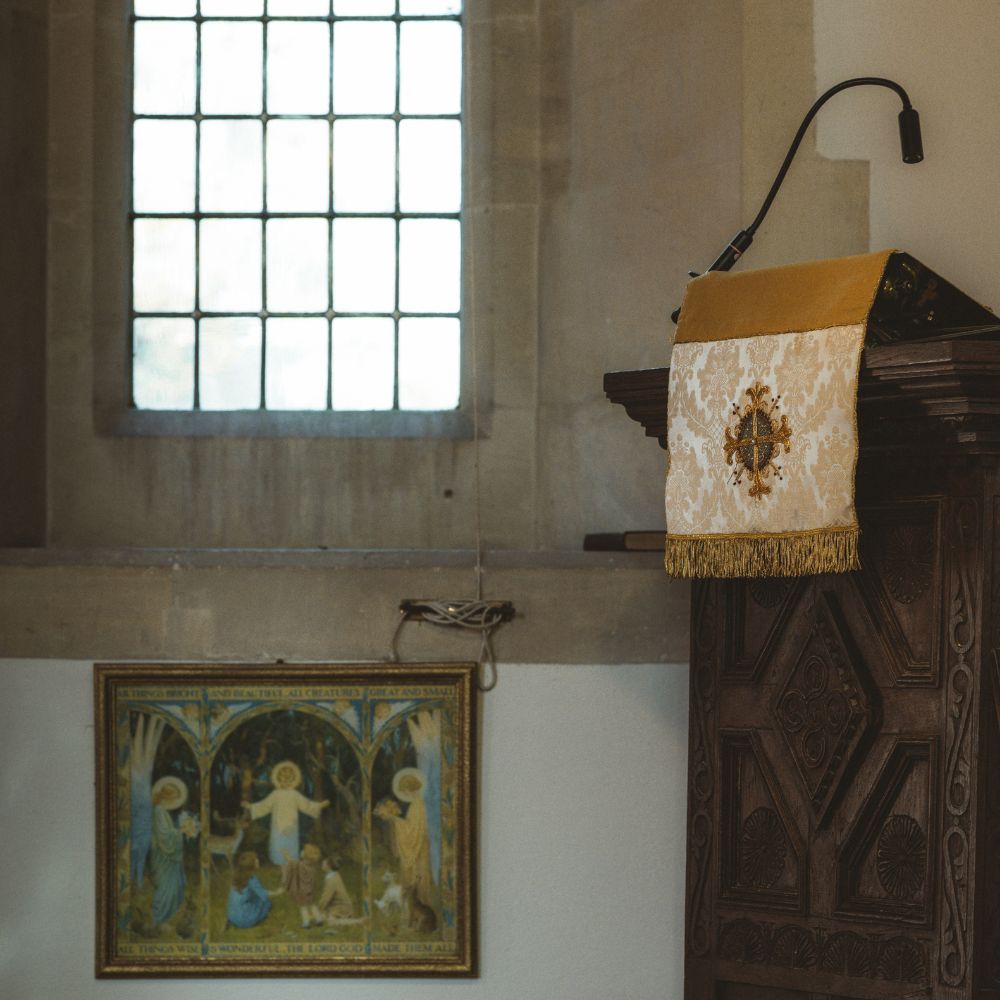 After a pause brought on by Covid-19, Revds Kate Tuckett (St Peter's Wolvercote) and Gavin Knight (St Michael & All Angels Summertown) decided to revive 'The Pulpit Swap' - one of the more popular, long-standing Summertown Wolvercote & Wytham Church Partnership activities.
The idea of a pulpit swap started decades ago in America as a way to heal the racial divide in the post-segregation South. It became common in the 1970s during the civil rights movement, when predominantly black and white congregations would exchange vicars – and often choirs – on consecutive weeks, promoting a message of healing and unity.
The concept is simple. And so, for one Sunday in Summertown and Wolvertone, the vicars were welcomed to preach in another Partnership church. Here they share their experiences.
"It might have been called Refreshment Sunday as Kate and I swapped altars and pulpits for the 10am Eucharist. The congregations seemed to enjoy the idea of sharing resources, albeit restricted to a clerical collar! Both churches celebrated the Feast of St Mary Magdalene. This seemed to be appropriate as Mary was told by the resurrected Christ to go and tell the brothers and sisters about the good news. It was lovely seeing so many friends (brothers and sisters) who continue to share the faith. I was very well looked after and I know Kate was very well received at St Michael's and, yes, she did get clapped! My reflection is that we are privileged to share the gospel as a partnership of brothers and sisters of faith. The more that we do things together, the more that we will reflect that first community of believers. My hope and prayer is that we will continue to support each other in thought, word and deed!"

Revd Gavin Knight
"Thank you so much for the warm welcome extended to me at St Michael's. I know that St Peter's enjoyed Gavin being in Wolvercote, and it was very good to express our partnership in this visible way of swapping pulpits. As we work together to share the good news of the gospel of Jesus Christ, it was apposite that we were celebrating St Mary Magdalene, called by name to tell the story of the resurrection."

Revd Kate Tuckett
The Summertown Wolverton Wytham Church Partnership brings together four churches: St Michael & All Angels in Summertown; Wolvercote's St Peter's and Wolvercote Baptist Church; and All Saint's Church in Wytham Village. The aim of the Partnership is the strengthening of the ministry and mission of churches in the local area.
Anyone from member churches are invited to join the Partnership Enabling Group which meet regularly to share what each church is doing and planning, to oversee joint activities - mission and outreach, services and study courses, and children's work - and to discuss new initiatives. Visit their website to find out more or speak to your Parish Development Advisor about opportunities for churches in your area.