Bishop Steven continued his year of 'listening and learning' with a visit to the Deddington Deanery on Wednesday 16 February.
A midday Eucharist was hosted by the Revd Hillary Campbell at Cropredy Parish Church, where clergy from across the deanery gathered together in worship. Preaching on a verse from Genesis, Bishop Steven reflected on how the pandemic disrupted our day-to-day rhythms as a Church. Bishop Steven explained how the creation story echoes our current time of rebuilding – a chance to bring a new sense of order out of chaos.
Speaking about the work of Church leaders across the diocese in the pandemic, Bishop Steven said;
"I have never seen learning and ministry like it."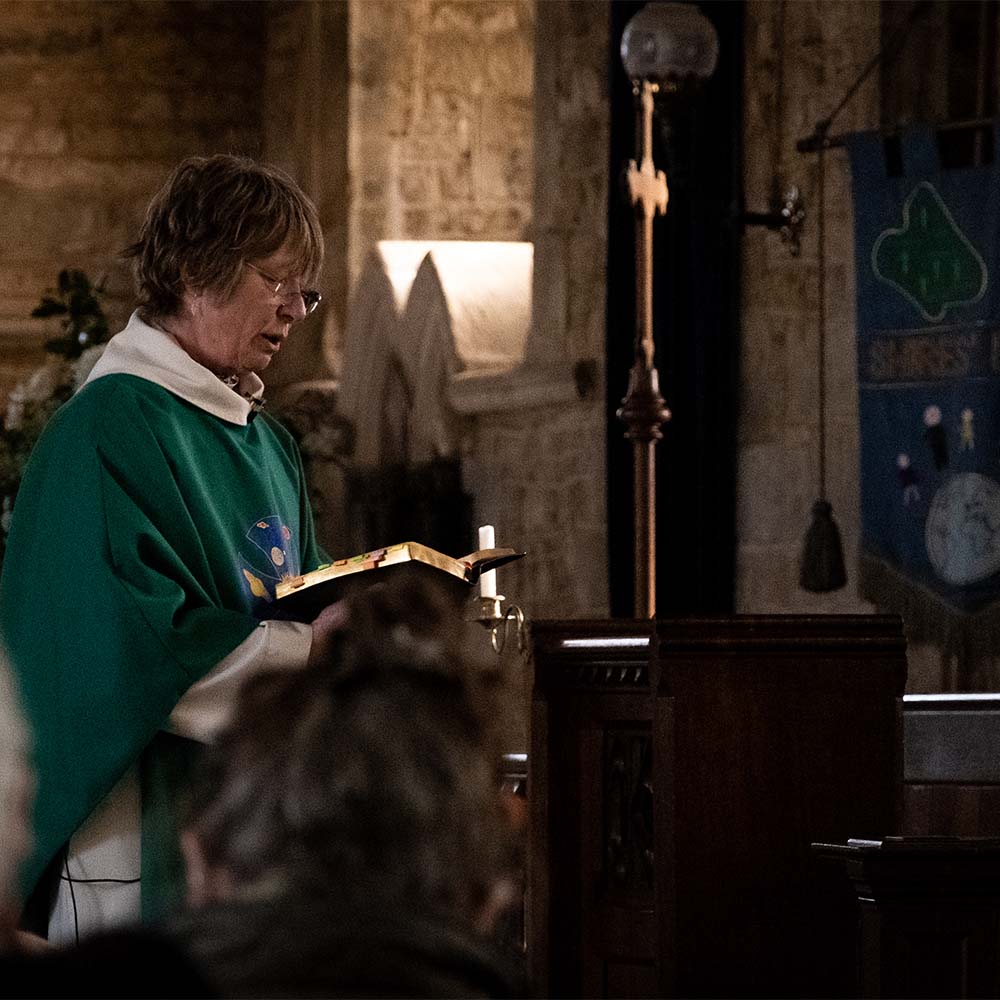 The clergy were invited to share with the bishop their concerns and hopes for the coming months. Many acknowledged a sense of exhaustion, particularly those who cover a number of small, rural parishes. Online services remain an important part of the weekly offerings in many parishes, with both regular and brand new worshippers joining the online congregations.
Recalling Bishop Steven's sermon, which considered the importance of balancing work and rest, one minister described the value of also having a time of play – a time to resume those restorative outlets taken away through lockdowns.
Brighter Futures in Banbury
The first of the afternoon's community visits took the bishop to St Mary's Church of England School in Banbury. Headteacher Victoria Woods passionately explained how St Mary's serves children from a growing range of socio-economic and cultural backgrounds. Parts of Banbury appear in the top 20 per cent of England for income deprivation affecting both children and older people. St Mary's is part of the Brighter Futures partnership, helping to break down the cycle of deprivation and support families challenged by poor working and housing conditions.
Next on the agenda was a trip to Wykham Park Farm Shop, where farmers John and Julia Colegrave shared the ups and downs of farming life in north Oxfordshire. The fifth generation to farm at Wykham Park Farm, John and Julia aim to be sustainable and eco-friendly, and stressed the importance of buying British produce wherever possible.
An evening with Bishop Steven
Bishop Steven shared dinner with local PCC members, before heading to St Mary's, Banbury. Here, Bishop Steven encouraged the laity present to hear Jesus' call to be salt and light as an affirmation of the work already ongoing and their 'heroic' response to the pandemic.
A question and answer session allowed the lay leaders to air concerns and challenges on matters including training volunteers, how to best encourage diverse thought across our new growing congregations, and the progress of the Living in Love and Faith project. The evening was rounded off with a time of prayer.
A year of listening
Bishop Steven is doing 29 deanery visits from late 2021 to 2022. See when he's in your area and save the date!