Eco Church members from Holy Trinity, Headington Quarry, Oxford have set up a community car-share scheme to enable church members, local residents and others to access transport more sustainably.
Co Wheels is a well-established car-sharing scheme, offering Co Wheels members the opportunity to hire a car or van from as little as £5 an hour. In 2017 Holy Trinity, Headington Quarry signed up for the scheme, to support individuals and families unable to afford to run their own car who need a car so infrequently that car ownership would not be practical, and to encourage people to car-share as a more sustainable way of travelling.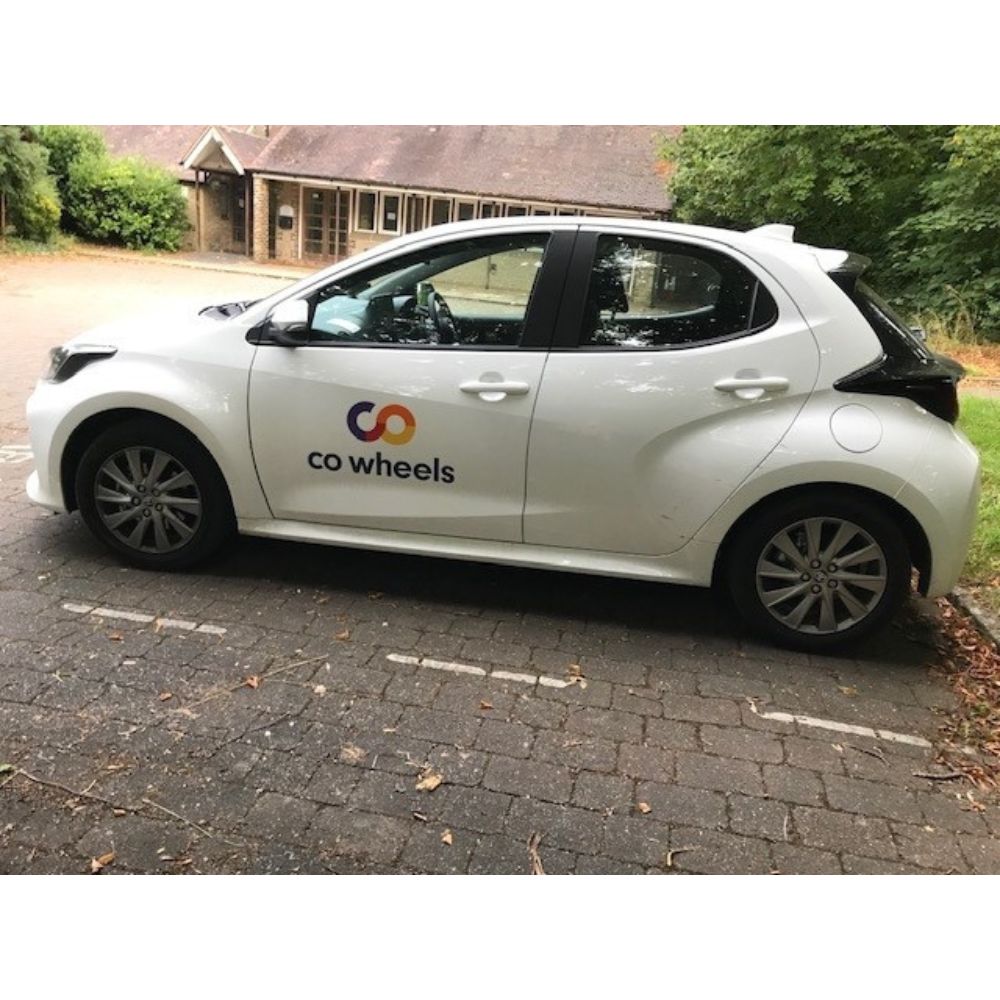 Holy Trinity's current car is a Hybrid Toyota Yaris with a 2023 plate. It is hoped that over time this Hybrid car will help people move towards electric vehicles. A scheme like this means that for the member, everything is included in the cost – repairs, maintenance, servicing, tax, MOTs, insurance and breakdown cover. It means having a car when you need it, and not when you don't; moreover, since Co Wheels vehicles have their own dedicated parking space, it eliminates the hassle of searching for a parking space in residential streets. No less important, it puts an end to the unexpected bills associated with car ownership. For the community it means reducing the number of cars on the roads, and – if it's an electric car or a Hybrid it means reducing pollution and carbon emissions.
How does it work?
The Eco Church team from Holy Trinity got in touch with Co Wheels, and offered their car park as a host space for one of the cars. Co Wheels organized the logistics, paperwork and legalities; however, this being a private car park, the church was responsible for ensuring that the bay linings were painted and a sign erected to demarcate the car parking space. The car duly arrived and the church was able to promote its availability to the congregation and the wider community. Since Holy Trinity set up the scheme, the original car has twice been replaced by a more recent model.
Car club members using Holy Trinity's car include not just members of the congregation and local residents. Since Co Wheels members can book the use of a vehicle in any of the 60 towns and cities in which Co-Wheels has a presence, visitors often choose to travel to Oxford by train or coach, then use a Co-Wheels car to explore the area.
"Installing a Co Wheels car in our car park was a no-brainer. It is wonderful to have done something that so many people can benefit from, and that is so environmentally-friendly. The membership joining fee is modest, booking is straightforward, the Co Wheels location map indicates where their vehicles are based, usage is costed in 15-minute segments, emergency help, if needed, is available 24/7/365".
Hilary Rollin, a member of the Eco Church team

To set up a similar scheme arrangement, email info@co-wheels.org.uk or phone Head Office on 0191 375 1050 - you can find out more on their website.
---
About Eco Church
Eco Church is a scheme run by A Rocha, and over 190 churches in the Diocese are registered. Holy Trinity Headington Quarry is a Silver Eco Church, and amongst a number of activites has run Climate Conversations with congregation members, held outdoor worship services, organised Eco Festivals and local nature walks, and assessed parishioners' houses for heat loss, using a thermal imaging camera.
Visit our Environment Action pages to find out more about how your church can care for creation