Looking to be more eco-conscious this Christmas?
While at Christmas we celebrate God's gift of his Son, it is also good to obey God's commandment to love our neighbour as ourselves and therefore try to minimise our celebrations' impacts on our planet and our global neighbours.
Here are some things you could consider:
Where any items you need to buy will come from;
How long they'll last;
Whether they can be recycled;
How to reduce waste.
There are many tips available online for a more eco-friendly Christmas. Why not explore Sustainable(ish), BBC's Newsround, or The Woodland Trust? A Rocha also recently suggested 12 top tips for the Advent season - from re-using cards and wrapping paper to trying a meat-free dinner.
You may also wish to use care for creation as an Advent theme in your church, using the Archbishop of York's Advent Book Sleepers Wake. There are many opportunities to consider creation care in your church planning – thinking about the decorations you use, the Christmas tree you buy and the hospitality you offer.
Inspired by the Revd Ben Phillips and the Benefice of Goring and Streatley with South Stoke, who have been gradually reducing the plastic usage in their Remembrance wreaths, why not opt for a fresh wreath? Making a wreath from evergreens is a plastic-free way to spread some Christmas cheer - and can make a great workshop for Forest or Muddy Church. It's easier than you think and there are some great step-by-step guides out there. We recommend this one. Just make sure you leave some berries for the birds when you're collecting!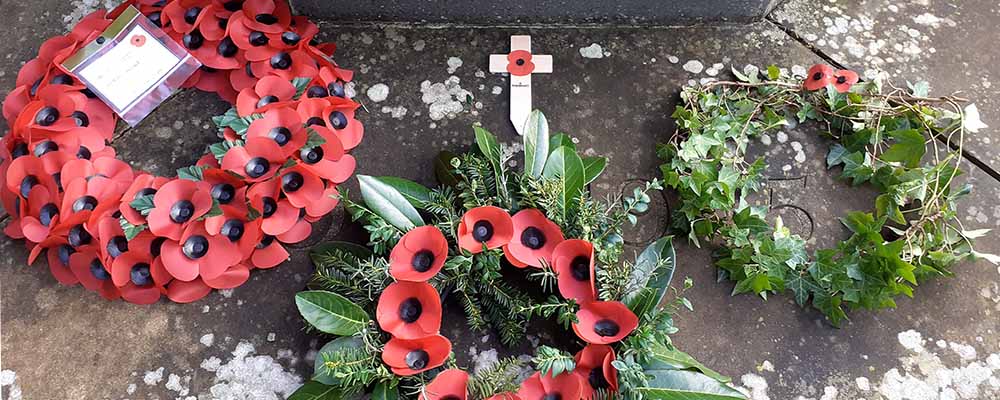 From 2020 to 2022 - The Benefice of Goring and Streatley with South Stoke have been reducing the plastic in their Remembrance wreaths each year.
Last year, we encouraged schools and youth groups to Be Glitter Free for Christmas, and it was great to hear how many of you switched to glitter-free decorations and wrapping paper. Why not revisit that this year with your kids' groups - all the resources are available on our dedicated Be The Change page.
---
For top tips throughout the year, subscribe to Care for Creation, a monthly newsletter contains resources, stories, information, updates, news and events on everything related to caring for creation in the Diocese of Oxford and beyond.