Whilst sitting in church one Sunday, Samantha Hill had a bright idea to start an intergenerational forest church group in her village of Alvescot in the Cotswolds.
With the PCC, incumbents and benefice all on board, Great and Small was up and running within in a few months.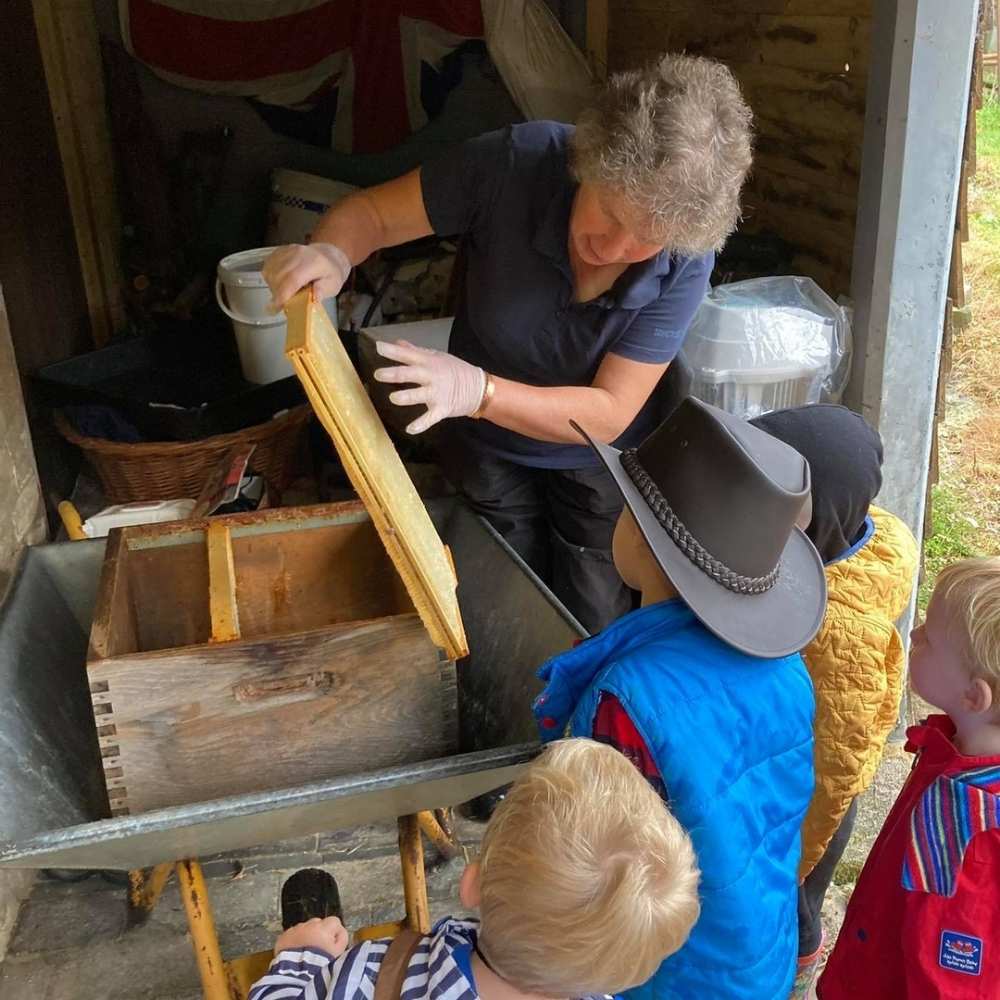 Great and Small - the older generation making up the 'great' part and the younger generation of pre-schoolers making up the 'small' part, and inspired by the well known hymn All Things Bright and Beautiful - meets every Friday morning.
The group gathers at St Peter's Church, Alvescot, before trekking to the village woods together. The focus is on wellbeing and learning about and appreciating the outdoors with Christian teachings.
Samantha recognised that there were many families in the local area having their children baptised but not coming to church and wanted to find a way of bridging this gap and exploring faith through nature. The group helps build a good parental support group and brings people together from all different backgrounds.
Samantha hopes that the project will encourage other churches to think about starting a forest church or toddler group:
"One of the main aims of the group is for those who don't usually mix together to come together, young and old, Christians and non-churchgoers. This creates a great sense of community building.

"The model is easy to copy and adapt so other churches can use it too as a way of offering a gentle stepping stone to church for those who are unfamiliar with Christianity."
"We start each session by singing All Things Bright and Beautiful, then after the main activity, we have a drink and snack and read a devotion story from the Indescribable Book by Giglio Louie. The devotions focus on God and science and the world around us which helps the children to gain an understanding and appreciation of God's creation.
"We end each session with a hunt for the prayer dolls, mini painted wooden figures with words such as hope, faith, love, peace printed on them. Once the children find the dolls, they have a chat with their adults about what the word means for them as a way of reflecting on what they have learned during the morning."
Samantha describes how the older and younger generations work together:
"The intergenerational element is a key aspect, I want the older generation to be and feel really involved. They have so much to offer with their knowledge and skills of the outdoors.

"We have regular volunteers from the local area bringing their different skills such as photography, bee keeping, bats and gardening so we have a different activity for the children each week. The learning flows both ways, the children learn from the older generation, but the children teach them so much too!"
Find out more
Great and Small is one of a number of Greenhouse projects in the St Mary's Cogges Resourcing Hub in Witney, part of our common vision focus area of growing new congregations. Greenhouse projects help us grow new worshipping communities of all shapes and sizes, acting as support communities for small teams of people from different parishes who want to see people from outside the church community come to know Jesus.
Intergenerational relationships benefit and support the whole community. The Disciples Together report from the Diocese of Oxford outlines the ways churches across the Thames Valley are reengaging with intergenerational faith formation and seeing the benefits of learning from one another and worshipping together in their communities. Disciples Together explores how we can embrace change for the benefit of God's work in the world and outlines steps for future ministry.
Find out more about Great and Small and get in touch with Samantha via their Facebook page.