The Bishop of Oxford, the Rt Revd Dr Steven Croft, went to see St Mark's Meals, a food box service, in action and help pack food parcels for families in need during a visit to the Milton Keynes Deanery.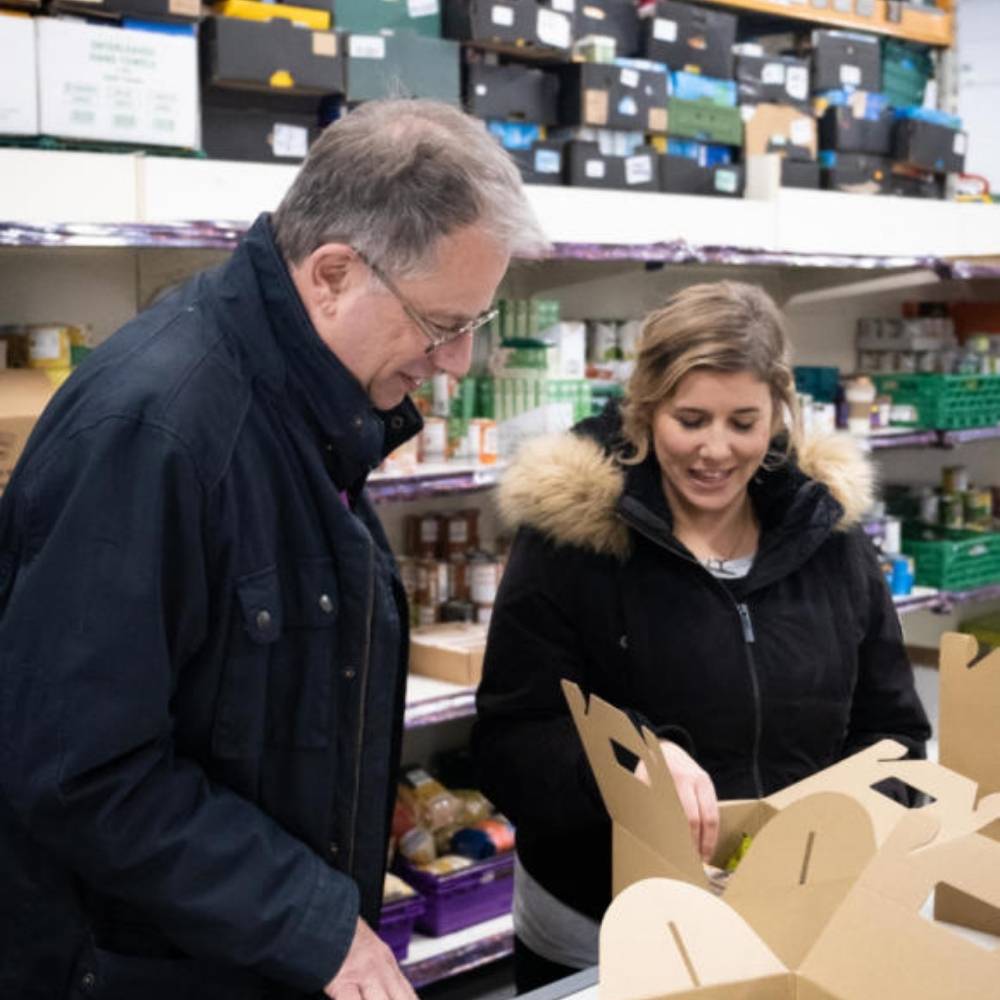 St Marks Meals is a community project run by a team of three from St Mark's Church, Milton Keynes. The project has been supporting families living in food poverty in Milton Keynes since 2019.
Meal boxes are now stored in over 70 schools, children's centres, and community hubs across the city as demand for meal boxes has risen. As soon as a teacher or other professional identifies that a child will not eat dinner that night, they can invite a family to choose from a selection of dinner options.
Last year over 10,000 dinners alone were delivered via meal boxes to local schools in Milton Keynes. Any child is welcome to take a box, as often as they need. Each box contains ingredients and instructions to feed a family of four for the night.
The model of St Mark's Meals has been so successful that the Meals Network now resources other churches to support replicating the service in areas of need across the country including Islington, Bromley and St Helens.
The Rt Revd Dr Steven Croft, Bishop of Oxford, reflected on the visit:
"The impact of the pandemic and the rising cost of living has had a dramatic impact on families across the country and continues to do so. St Mark's meals are providing an absolutely vital service for families in need in Milton Keynes. Without this, many children and young people would be going to bed hungry.

"It is encouraging to see how churches in the diocese are identifying the need in their local communities, stepping up to serve and share the love of Jesus."
Angie Row, who runs St Mark's Meals, wants to encourage other churches to think about how they could run their own meal box service:
"We're really proud to have been able to help so many children and families here in MK, now we want to give away our resources and experience so that any church or charity can run their own Meals programme anywhere in the UK.

"We've got the tools you need to do this and step by step guidance and training to help you make it work, no matter what obstacles you face. It's a free gift to help because no child should have to go to bed hungry, regardless of their post code. If you live in the UK, it's likely that 1 in 4 children are living in poverty in your local area."
This is the first of Bishop Steven's 25 deanery visits. Over the next six months, Bishop Steven is travelling to each deanery in the Diocese of Oxford to meet with and hear from local people and church leaders. Bishop Steven will be visiting a range of community projects, schools, and charities to hear about their important work and the growing mission and ministries of parishes and their churches.
If your church is interested in advice or access to resources to start your own meal box project, email St Mark's Meals meals@stmarksmk.com.
---
St Mark's Meals is run by Rachel Fielding and Angie Row who started working for the church in the middle of the pandemic in October 2020. Meals Network was always their plan to see more places in the UK helping their local children through such a simple and effective idea. St Mark's Church previously received a Development Fund grant from the diocese in December 2020 to help fund their portfolio of social action projects.