A new church-based community has flourished from the growing family and community engagement in Eton Wick. During the pandemic, the Toddler Drop-In ministry team at St John the Baptist Church kept in touch with local families via WhatsApp and weekly doorstep conversations.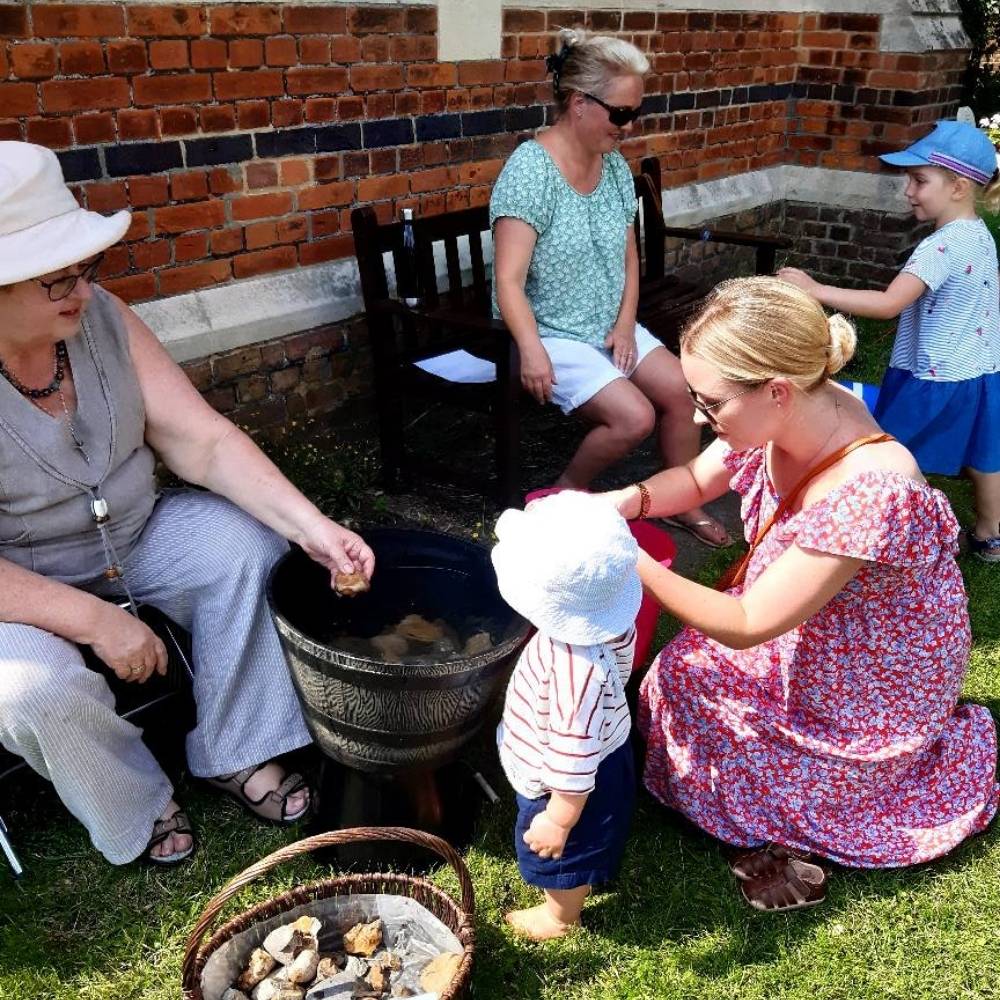 When mixing between households was restricted, toddler groups at the church had to stop and many parents and children missed out on this crucial lifeline for building friendships. Not wanting to lose the provision altogether, and to maintain good relationships with local families, the Drop-In team continued to engage through WhatsApp groups, regular doorstep visits, and helping families when they were in need with food and deliveries.
They also provided a short time, two days a week, when a family could bring their toddlers into the church for a break from being stuck at home, to play with new toys, and burn off some energy. Individual families were invited to come along at intervals and as restrictions eased the families and children could play together again. The toddler groups have been so popular that the church has started another weekday group to accommodate the extra families and the first groups have incorporated a short time of reflection and singing.
The children and families Drop-In coordinator, Paula Darrall, reported:
"There is a strong sense of community and trust among the families. A family of families has formed, one that is inclusive and welcoming with strong friendships forged. People are sharing their difficulties, discussing issues, and looking out for one another. A church group has also been able to respond to the various needs of families supporting them when they are in need such as helping purchase school uniforms and providing food parcels."
Building on the connections developed with the local families, the church ministry team hosted a messy church-style Baptism Bonanza afternoon for those parents who had recently had their child baptised and for those who were considering it. The outdoor afternoon was a space for families to meet together but also for parents and children to explore the meaning of baptism in a series of interactive prayer and reflection activities.
The Revd La Stacey, Vicar of Eton with Eton Wick and Boveney and Dorney, reflected on the impact of this ministry:
"Over the past two years, we have reached 34 local families through the Toddler Drop-In and Baptism Bonanza, with the majority being non-churchgoers. The core community of people who help each other and look out for each other has had an encouraging impact on the wider community, so when new people move to the village they're invited along to our groups by other families."
Development Fund
Eton Wick received a grant from the Development Fund in 2019 to work with and serve the unchurched families in the local area.
The Development Fund is open to all parishes and benefices in the Diocese of Oxford and especially those with limited financial resources to invest in missional activity. Applications are open for the next round of funding and close on 30 April 2022, find out more and apply on the Development Fund page of our website.