A Catholic pilgrimage to Bosnia started a shift in Julia's life, leading her to sell her business and start up a charity supporting young people.
As a successful businesswoman in Scotland, a chance invitation in her early 30s resonated with Julia Ogilvy at a hard time. "I was struggling a lot with life generally, with work... and I had two young children and trying to balance that and everything else was just getting really difficult."
A pilgrimage to MeÄ'ugorje in Bosnia, a 'place of tremendous peace', led Julia to a powerful spiritual experience that made her re-evaluate her life.
Selling her business, Julia founded Project Scotland, a charity that aims to support young people through volunteering opportunities. Her passion for social justice quickly became clear as she helped develop a similar project in England and advised then-Prime Minister Gordon Brown on social justice issues.
"The absolute most important thing to me about my faith is that commandment to love your neighbour."
Julia later attended Harvard Divinity School, where she was inspired by the thriving multi-faith community, with over 40 faiths represented across the school. Despite their profound influence on her, Julia graduated feeling unsure of spiritual authority. A mentor suggested trying hospital chaplaincy, and Julia started ministering in the oncology ward.
Julia recalls her most impactful experience in the hospital; meeting an elderly woman on palliative care, who hadn't spoken in a long time. Julia asked if she would like some prayer and felt a strong pull to say the blessing from the book of Numbers. As she spoke, the woman clutched her hand tightly and began to recite the words with her, and Julia realised the verse was obviously something that truly mattered to her.
The moving encounter proved enlightening. "It was just about being present. It didn't matter what I knew or didn't know... I suddenly realised it was all a lot less complicated."
T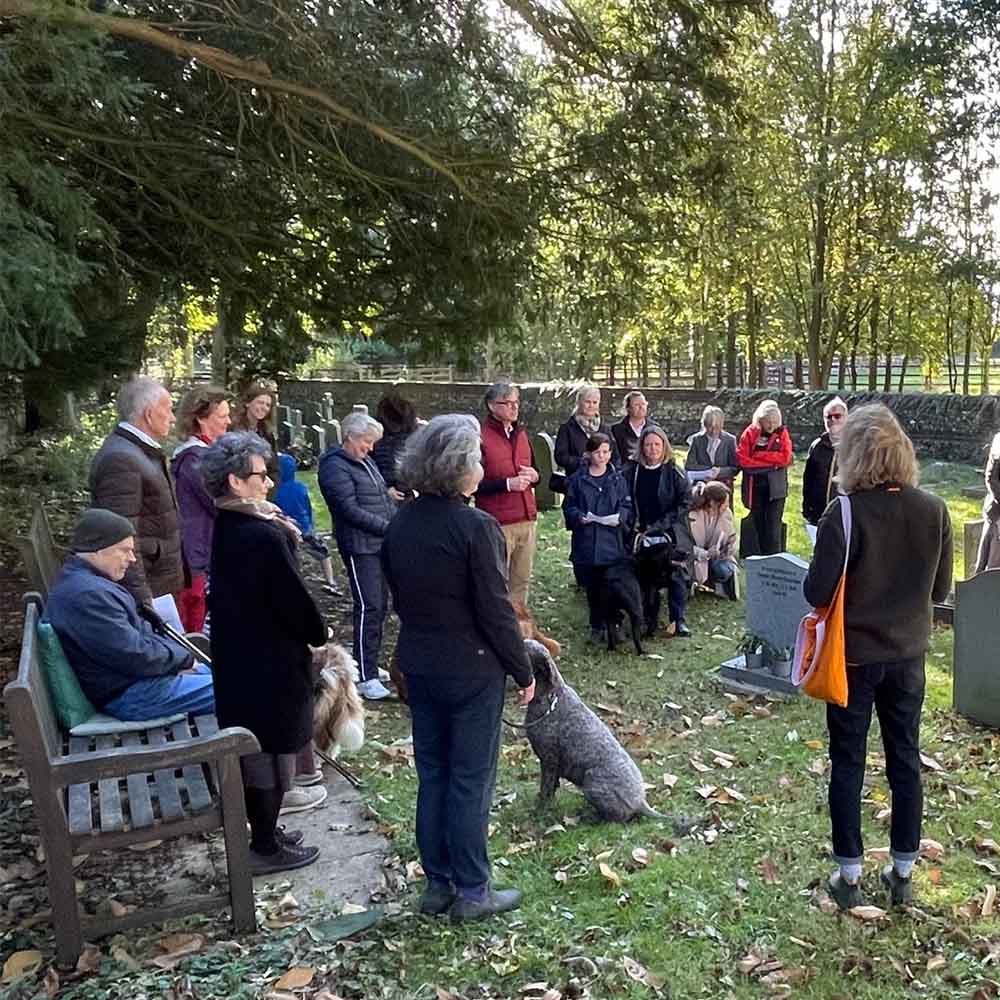 he move to village life in Fawley came just months before the first national lockdown. Julia knew there were "people on their own in the village who would love to know they could find a warm welcome." She started up an outdoor prayer group and WhatsApped the village for prayer requests. Julia soon found that a number of people who weren't religious, or who came from different faith backgrounds, came each week to pray, hear poetry and connect with nature.
Julia's confidence in leading prayer comes from an Alpha course, which empowered her to pray comfortably in a group setting and to pass that wisdom on. Julia describes the joy of seeing how interconnected we are through the prayer group. "Having had a lot of exciting roles in my life, it's made me much more reflective about the balance of that and actually loving just one-on-one time with people."
During the lockdowns Julia also led a Soulful Leadership course, using wisdom from different spiritual traditions to help people connect faith and business. Looking at various meditation skills and the value of pilgrimage and retreats, Julia is confident the skills imparted would have enriched her own business career had she known of them sooner.
"There's far too big a divide between what people think of their 'business life', and sometimes even the way they behave in the business world, versus their other life, spiritual or otherwise."
Julia continues to run the prayer group and has big plans for St Mary the Virgin's Church, who hope to build a more inviting church space over the coming year. They set up a Friends of Fawley Church group to raise money to turn the church building into a community hub, and though frustrated by the slow pace of the process, plans to create a warm, welcoming foyer and a flexible events space are underfoot.
"I'd love to see the church revived in this village as a spiritual heart of the community... There is an underlying love for it in this village."
---
Hoping to start an outdoor prayer group of your own, or another Fresh Expression of church? Our New Congregations team can provide advice and support.