Churchyards provide vital green and quiet space, as well as vital homes for endangered species in some areas.
The diocese encourages churches to explore simple ways to use your churchyard to create a haven for wildlife, for heritage, and for people.
In many urban areas the churchyard is often the only 'green lung' for the community and the rural churchyard can often be a haven of biodiversity surrounded by acres of chemical-drenched monoculture. If all our churchyards were placed side by side and end to end they would form a huge national park open for all to share producing a festival of wildlife and nature.
However, they do provide stepping stones through our urban and agricultural landscapes, contributing to wildlife corridors through areas which otherwise may be hard for some species to traverse. See the examples on the Burial Grounds to Inspire map. Could you propose a beautiful churchyard you know as an addition?
Churches Count on Nature and Love your Burial Ground week
Churches across the country celebrate Love your Burial Ground week every year in June as part of the nationwide project run by Caring for God's Acre (CfGA) and supported by the national Church of England Environment Programme.
There are an estimated 12,000 Church of England churchyards throughout the country and around half of them already run biodiversity projects, while remaining respectful to their users, particularly family and friends of those buried there.
During this week churches are encouraged to run events to raise awareness and celebrate the treasures of their churchyard, and to submit wildlife discoveries as part of a central database which will list all the biodiversity churchyards are holding in store for the country. Churches Count on Nature began in 2021 with A Rocha UK also involved and encourages recording of the biodiversity in churchyards.
Caring for God's Acre - Churchyard Action Pack
This resource has a wealth of information to help with the sensitive management of your churchyard. There are guidelines on the management of wildlife habitats such as grassland and trees, and features such as lychgates, boundary walls and old stonework. It also includes information on how to involve others and how to make use of these places for learning and community activity.
It is available to buy or download from Caring for God's Acre.
Swifts and churches
Swift numbers in Britain have decreased by up to 40% in the last 20 years. Swifts return to the same nest hole every year, and so when buildings need repair or are demolished, nest sites can be lost.
Almost without exception modern buildings do not have the gaps and crevices which are essential for Swifts to nest. So largely it is older, less well-sealed buildings with a few gaps under the eaves or tiles or in the pointing, which are favoured by Swifts – like some of our churches. Find out more...
Causing a buzz at St Thomas's
Find out about how one churchyard in central Oxford is being used to keep bees. Read more...
A case study from St Mary and St John Church in East Oxford
This is the story of turning a churchyard that had become a forest of overgrown trees and tangled undergrowth, used for antisocial behaviour, to be a much appreciated quiet green space in the middle of a busy urban area. Its maintenance has also become an important partnership between the church and others in the local community, and the churchyard is now an educational resource on wildlife and local history.
Find out more about the restoration on their churchyard website.
Wildlife friendly churchyard management tips
Churchyards often form valuable 'stepping stone' islands for wildlife, providing both habitats to live in and corridors for movement through urban or agricultural landscapes.
Here are some ways we can make them even more valuable to wildlife. Click the image below to view in full or use the [+] buttons below to read the tips.
Hedgerows
Hedgerows and old trees are a valuable wildlife habitat for bats, birds and small mammals.
Noticeboards
Regularly updated interpretation boards inform the public about the wildlife and any habitat management taking place.
Compost
A compost heap and patches of nettles can be left tucked away at the back of the churchyard to provide more wildlife habitats.
Mowing
Reducing the number of cuts in certain areas allows wildflowers to grow and set seed.
Regularly mowing paths, wedding photograph locations and areas around more recent burials allows good access for the local congregation.
Logpiles
Logpiles can shelter invertebrates, small mammals, reptiles and amphibians.
Roosting
Churches often provide much-needed roosting places for bats and nesting holes for swifts.
Lichen
There are 600 or so lichens found in churchyards in lowland England. Half of these are very rare!
Walls
Stone walls provide a good surface for lichens, moss and ferns to grow, and are home to numerous animals.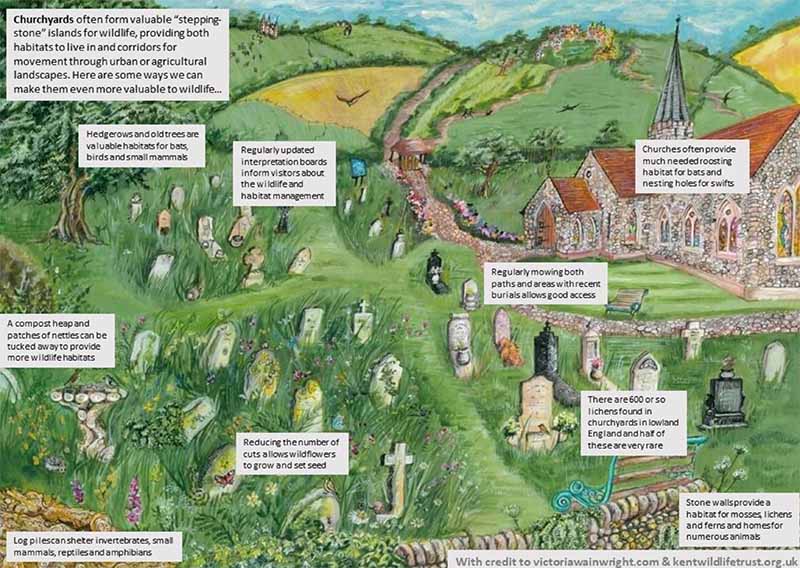 Swifts and churches
Swift numbers in the UK decreased by 53% between 1995 and 2016
There are several likely reasons for this, but one is the loss of nest sites. Swifts return to the same nest hole every year, and so when buildings need repair or are demolished, nest sites can be lost.
Almost without exception modern buildings do not have the gaps and crevices which are essential for swifts to nest, so largely it is older, less well-sealed buildings with a few gaps under the eaves or tiles or in the pointing, which are favoured - like some of our churches.
What to look for
We are encouraging people to notice swifts and where they are nesting. If local people know where the nest sites are, it's easier to look after them and encourage swift-friendly building work.
Swifts nesting in a church can easily go unnoticed. Parties of screaming swifts may be obvious, but they are extremely adept at entering their nest holes; add the facts that nests are not visible from the outside and that swifts leave no mess, and it's not surprising that the nests are often overlooked.
What to do
There are several ways in which parishioners, PCCs and church authorities can help.
One is by being alert to the possibility that swifts may be using the church for nesting. Screaming parties of swifts seen regularly near the church are an indication that they are nesting in the building or very close by. You can map swift nests you find using the RSPB's Swift Mapper.
In the period when swifts are actually nesting, it is illegal to disturb them. The same applies to all birds. At other times the ideal solution is to leave the particular space alone if at all possible.
If this cannot be done, advice should be obtained about swift-friendly building work and providing alternatives. For more information, see Swift Conservation, Action for Swifts or, in Oxfordshire, there is the RSPB's Oxford Swift City project.
Nest boxes
If swifts are found to be using the church for nesting or if screaming parties are seen nearby, it may be possible to install a nest box behind the louvred windows in the tower. This would need the support of the PCC and approval from the diocese, but it is relatively cheap and simple to do, and it does not involve drilling into the masonry.
It has been successfully done in several churches in Cambridgeshire and local churches in Oxfordshire are now following their example.
The Cherwell Swifts Conservation Project has these aims:
to protect swifts' nesting places;
to encourage the creation of more nest places and;
to raise awareness of the reasons for swifts' declining population and what people can do about it.