We are part of a worldwide Anglican family of churches in over 165 countries.
These churches are gathered in autonomous members, or provinces. Each member church makes its own decisions in its own way, but "their decision-making bodies are guided by recommendations from each of the four so-called Instruments of Communion: Lambeth Conference, Anglican Consultative Council, Primates' Meeting and Archbishop of Canterbury"
---
Lambeth Conference 2022: God's Church for God's World
Our closest meeting with our Communion brothers and sisters comes through the Lambeth Conference. In ordinary times, all the bishops of the Anglican Communion meet together in Canterbury every ten years, to share in prayer and study and to provide guidance for the direction of the Communion as a whole.
The last conference was held from 26 July – 8 August 2022 in Canterbury and focused on what it means to be 'God's Church for God's World'. You can watch highlights of the conference and read a summary of the Science and Faith thread on Bishop Steven's blog. All four of our bishops were in attendance, alongside guests from our link dioceses.
Bishop Olivia and Bishop Gavin have each shared their reflections from the Conference - read God's Church for God's World and A remarkable gathering.
During the conference, Bishop Olivia led a round table discussion on Environmental and Climate Justice Advocacy. Bishop Steven led the drafting of the Lambeth Call on Science and Faith and launched the Anglican Communion Science Commission, which he co-chairs with the Primate of Southern Africa, Thabo Makgoba.
---
Prayer
Every day, we pray for one of the dioceses or provinces of the Communion through the Anglican cycle of prayer. There are so many dioceses that this year (the first in the cycle), it took almost until the end of March just to finish the 'A's. You can find our prayers for the different dioceses on our Twitter account.
---
Communion ministries & networks
The Anglican Communion also contains many ministries and networks that further mission around particular themes locally and globally. Some of the ones with which we work most closely are:
The Anglican Alliance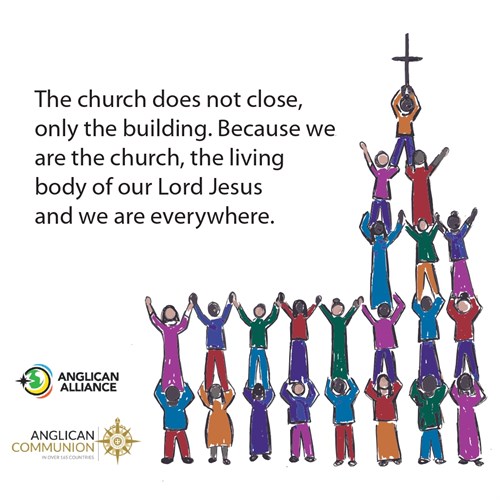 The Anglican Alliance brings together those in the Anglican family of churches and agencies to work for a world free of poverty, inequality and injustice, to raise the voices of the vulnerable, to reconcile those in conflict, and to safeguard the earth.
It coordinates Anglican working on relief for disasters, provides opportunities for advocacy on topics such as climate change and vaccine equity, and facilitates shared learning
It has a website which offers an overview of Anglican work worldwide on key areas, as well as providing resources for prayer and action. You can also follow it through its bulletin, on Twitter and on Facebook.
The Anglican Communion Environmental Network
The Environmental Network aims:
To encourage Anglicans to support sustainable environmental practices as individuals and in the life of their communities.
To provide information about policies embraced by synods, councils and commissions, and especially by the instruments of Unity (Statements by the Archbishop of Canterbury, Resolutions and Reports of the Lambeth Conference and the Anglican Consultative Council)
To support local initiatives by providing information about ideas and best practices developed around the communion.
To share information about resources and initiatives that may be of value to Anglicans everywhere.
To provide an opportunity for interested Anglicans to meet both as a formal network, and informally via electronic media
It has a website with a wide range of resources and provides a regular bulletin, which you can view here and sign up for here. It also posts regularly via the Green Anglicans Network, which is on Twitter, Facebook, and the web.
The International Anglican Family Network
The International Anglican Family Network (IAFN) is one of the networks of the worldwide Anglican Communion. IAFN engages with members across the Anglican Communion to celebrate the God-given potential of the family as a source of thriving relationships, identity, belonging, discipleship and reconciliation. Out of this celebration IAFN is an advocate for the family in the face of behaviours which diminish this potential, sharing stories of hope, promoting family care and sustaining the family as the cradle for human dignity.
The network has a website which hosts, among other things, its newsletters and the information about its regional consultations. You can also follow it on Facebook.